Rules of ESN Winterthur
During our Events we will wear a mask at all times.

Exceptions only apply when explicitly told by the organizer.

We will provide hand sanitizers where necessary. 
You are not allowed to attend an Event if you feel sick or have been in contact with someone who might be infected with the corona virus.
We recommend that people who are in the high-risk group do not attend our events.
We advise to install the contact tracing app (direct link further down on the page).
You have to inform us if you've been tested positive for covid and you've attended an event of ours in the previous 10 days. 

Not following our rules can be followed by exclusion from our Events without any refund.
Current measures of the State
https://www.bag.admin.ch/bag/en/home/krankheiten/ausbrueche-epidemien-pandemien/aktuelle-ausbrueche-epidemien/novel-cov/massnahmen-des-bundes.html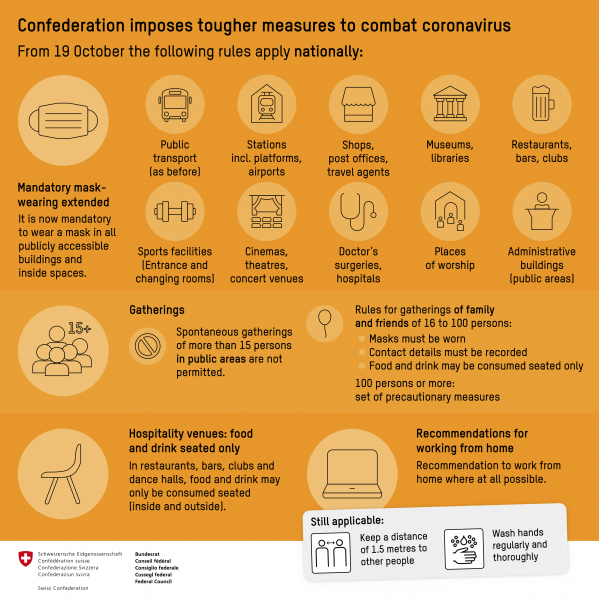 What do I do when I feel sick?
For questions you can contact a doctor at the free number from swiss networks: 0800 33 66 55

All the updated and necessary info you'll find under the following link:
https://www.bag.admin.ch/bag/en/home/krankheiten/ausbrueche-epidemien-pandemien/aktuelle-ausbrueche-epidemien/novel-cov/isolation-und-quarantaene.html​
We recommend installing the contact tracing app
Android: https://play.google.com/store/apps/details?id=ch.admin.bag.dp3t
iOS: https://apps.apple.com/ch/app/id1509275381
Helpful links:
Information of the State: https://www.bag.admin.ch/bag/en/home/krankheiten/ausbrueche-epidemien-pandemien/aktuelle-ausbrueche-epidemien/novel-cov.html
Information of Canton Zürich: https://www.zh.ch/de/gesundheit/coronavirus.html
General information about what's happening in Switzerland: https://www.swissinfo.ch/eng